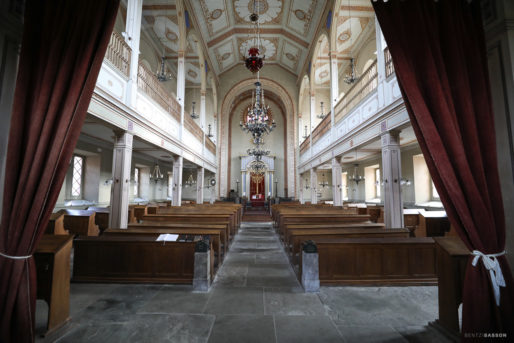 The Lengnau Synagogue, dedicated in 1847, dominates the village square with its impressive facade. The place of worship represents the new inner strength of the Jewish community, which at that time had grown to 500 individuals.
Jews have been living in Lengnau and Endingen for 400 years. For decades, they were only permitted to live in these two villages. Not until 1866 did the Swiss Federation allow them to settle elsewhere in Switzerland. Consequently, in the following years, many moved away, to Baden, Zurich or abroad.
Inspired by the round arches of the Romanesque style, the ascending arch of the synagogue connects the main entrance with the central window and thus emphasizes the projection of the vertically exaggerated central section. It is fitted with a clock, which is unusual for a synagogue. Delicate wooden stilts support the surrounding women's gallery and divide the interior into three naves.
Since 1963 the synagogue is protected by the Cantonal Heritage Protection Commission. In 1983/84 the facade was restored followed by the restoration of the interior from 1995 to 1997.
Wishing you all #ShabbatShalom
Candle lighting in Lengnau is 6:17pm
Source: GO Kosher Travel via Bentzi Sasson