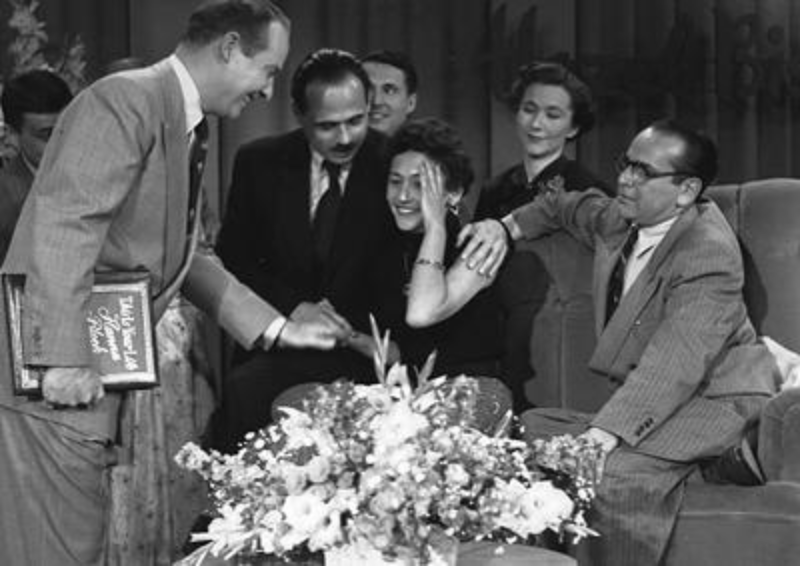 70 years ago, in May 1953, Hanna Bloch Kohner became the very first nationally televised interview with a Holocaust survivor living in the US. The event took place during a live broadcast of the show "This Is Your Life," hosted by Ralph Edwards. As part of the show, Edwards orchestrated a reunion with old friends from Europe, a G.I. who had helped her after liberation, and her brother Friedl, whom Hanna had not seen since before the war.
Born in Czechoslovakia on September 7, 1919, Hanna survived multiple concentration camps. After liberation from Mauthausen in May 1945, she asked an American soldier to deliver a letter to her fiancé, Walter Kohner, in Los Angeles. Walter, who had previously left for the US in an unsuccessful attempt to bring Hanna over, had returned to Europe as a Staff Sergeant in the US Army. He successfully tracked down Hanna and the couple moved to Los Angeles.
When Ralph Edwards learned about Hanna's remarkable story through Walter, he decided to feature her on his show. This made Hanna the first Holocaust survivor whose story became widely known in the United States, reaching a broad audience and allowing them to hear direct testimony from survivors.