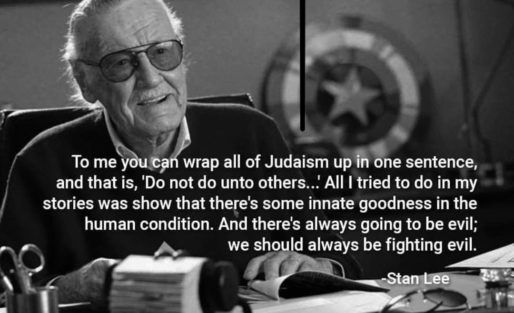 Stan Lee, Marvel comics' real-life Jewish superhero has died at 95. Lee started Marvel with Jack Kirby in 1961 with The Fantastic Four. He went on to create Spider-Man, Black Panther, The Incredible Hulk, X-Men, Iron Man and The Avengers.
Stanley Martin Lieber was born on December 28, 1922, in Manhattan, New York City, in the apartment of his Romanian-born Jewish immigrant pa
rents, Celia and Jack Lieber. NBC News correspondent Benjy Sarlin described Lee as "a big source of cultural pride as a kid, both as a New Yorker and as a Jew. It meant a lot to me that so many great comic creators had similar biographies to my grandparents and that their world was reflected in the work itself."
May his memory be a blessing.
Photo:
PopCholent