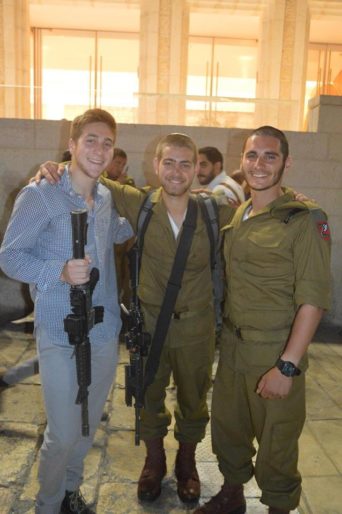 It's Friday of Thanksgiving weekend and I'm in Israel, but not alone. I met up with the
Nefesh B'Nefesh-FIDF Lone Soldiers
, who also are not alone. There was one soldier in particular that I was fortunate to meet.
Meir and Sarah Riebenfeld narrowly escaped Nazi Germany in 1936 to build a Jewish Homeland – fast forward to 2018 where 4 of their great grandsons are all serving simultaneously as IDF P
aratroopers.
I met with one of the great grandsons, Yair Slasky, a Nefesh B'Nefesh lone soldier who hails from New Rochelle, NY and son of a former lone soldier. Yair and his cousin Yair Freedman, were both named for their grandfather who also felt a calling to be part of building a Jewish State.
The name Yair means 'to illuminate' and they certainly are illuminating Jewish history through their service.
All 4 great-grandchildren chose to go through the rigorous acceptance program of the Paratrooper Corps so that they could give the IDF their all and in doing so, become the best versions of themselves.
This is an Israeli Thanksgiving story and while we give thanks for the opportunity to stand and protect our Jewish homeland, we also pray that they and all of our soldiers stay safe.
Photographed here: Yair Slasky, Matan Slasky, Yair Freedman, (Segev Taubman missing).
— in Israel.