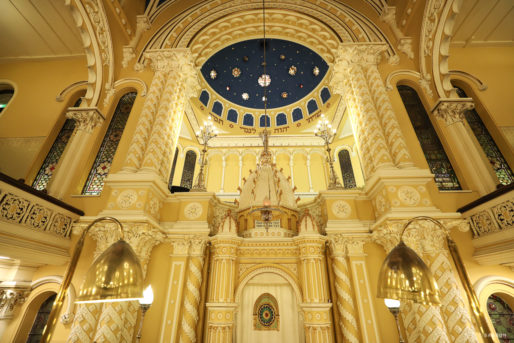 The Great Synagogue of Sydney (known in Hebrew as Beth Yisrael) is one of Sydney's most beautiful, fascinating and historic heritage buildings. The Synagogue has stood on its present site for well over a hundred years, since 1878, but the congregation itself has a history going back at least fifty years before that, to the 1820s.
The Synagogue was founded on York Street in 1844, and although another congregation was formed on Macquarie Street, the two communities united in 1878 to form The Great Synagogue.
The building is one of the national treasures of Australia, and one of the most beautiful places of worship of any denomination. The glorious Ark, cedar Bimah and pews, stained glass windows, shining brasswork, intricate tiles, and star-studded ceiling make any service at The Great Synagogue inspiring.
The Great Synagogue combines elements of Byzantine style and Gothic characteristics. This grand building is often described as the "cathedral Synagogue" of Australia.
The Great Synagogue has considerable ecclesiastical and historic importance as it represents the Mother Congregation of Australian Jewry, which saw the merger of two separate congregations to build the present synagogue, and represents the center of Jewish worship and culture in central Sydney since the 1870s.
Candle lighting in Sydney is at 7:47.
Wishing you all #ShabbatShalom
Source: GO Kosher Travel Bentzi Sasson