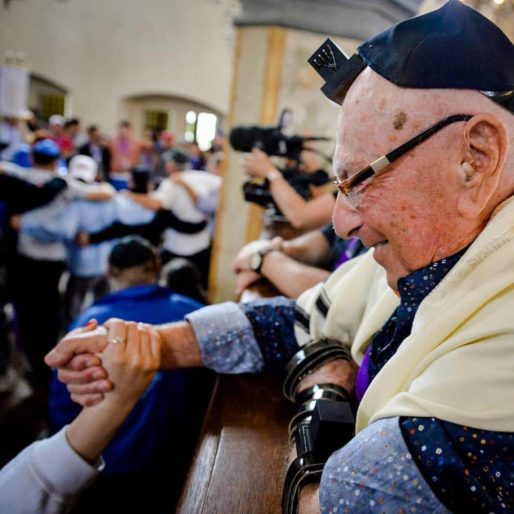 Johnny Jablon began preparing for his bar mitzvah in Poland in the summer of 1939. A month later, the Germans invaded. Now 92 years of age, Jablon returned to Poland for the first time since World War II to finally celebrate his bar mitzvah.
Born the second of three sons to an assimilated Jewish family in Kraków, Jablon spent the first 11 years of his life fully integrated into Polish society. While many of the more traditional Jews lived in the Kazimierz district, the Jablons lived on a small suburban street next to Planty Park, the large garden that encircles Kraków's Old City, where the city's walls had once stood. "Until the sixth grade, I spoke only Polish," Jablon recalls. "I was the only Jew in my class. My classmates made that very clear to me—for six years, they called me nothing but 'dirty Jew.' "
Despite the abuse, the Jablons considered themselves Jewish Poles, with an emphasis on being full Polish citizens.
In the summer of 1939, Jablon was learning to swim in Kraków's new public pool and enjoying time with his aunt and cousins in a summer camp in Rytro, a resort town nestled in Poland's Tatra mountains. His parents hired a rabbi to help him with his bar mitzvah studies. When the war broke out in September, his studies stopped—and the course of Jablon's life was forever altered. "In one day, I lost everything," he says.
Moving to Montreal, Jablon married, opened an electronics store and began a new life. He never planned to return to Poland. "How could I go back?" he says. "I had no one left. I didn't want to go to see the ashes of my family." Last May, when his wife, Sally, passed away, Jablon began to reflect on his life in Poland before the war. At the urging of friends, he decided that it was time to finally return on a "March of the Living International" trip to the country of his birth.
That's when Jablon met Chabad-#Lubavitch Rabbi Pinny Gniwisch. The director of #Chabad-affiliated "Living Legacy" in Montreal, Gniwisch has been leading "#MarchoftheLiving" trips to Poland for the past 13 years. This year, he served as the Montreal delegation's official rabbi.
As the two met over lunch before the trip, Jablon mentioned his interrupted #BarMitzvah
Source: Chabad.org
Bar Mitzvah
,
Chabad
,
Holocaust
,
Humans
,
Jewish
,
Judaism
,
People
,
Poland
,
Tefillin