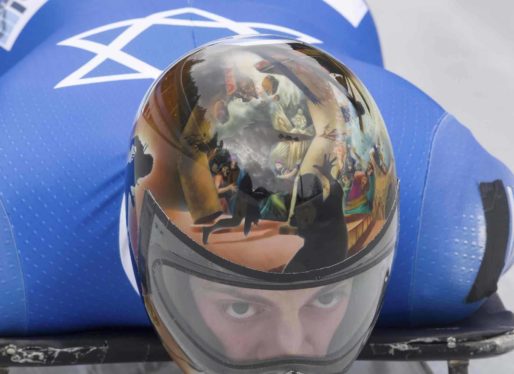 AJ Edelman is a four-time Israeli National Champion in the skeleton event and Israel's representative at the 2018 Winter Olympic Games in Pyeongchang. Edelman holds Israeli track records on almost every track he has raced on, and competed in two World Championships for Israel (2016, 2017). He is Israel's most decorated slider with 2 international medals in competition.
AJ was born in Boston, Massachusetts (03/14/1991).  A native of Brookline, Massachusetts, AJ's first sport was ice hockey, which he began playing at age 3, as a goaltender. Edelman continued to play hockey through high school for the Brookline Warriors hockey team, at one point turning down opportunities to play at prep schools and remaining at his Jewish day school, Maimonides. Edelman continued to play through his tenure at The Massachusetts Institute of Technology (MIT), helping the Engineers win two divisional championships in the NECHA division II league.
After graduating MIT with a degree in Mechanical Engineering, Edelman was hired by Oracle as a product manager, at their headquarters in Redwood Shores, California.
Edelman was raised in a Zionist, Modern Orthodox home to parents Cheryl and Elazer Edelman (biomedical engineer, physician, professor). He is the middle of three boys, his older brother is award-winning comedian Alex Edelman, and his younger brother Austin. AJ is a graduate of the Massachusetts Institute of Technology (class of 2014).
AJ davens (acts as a cantor) on the Yamim Noraim (Jewish high holidays) and layning (reading the bible portion) on Simchat Torah, and enjoys acting as ba'al tefilla and chazzan when he travels to various communities for training.
Source: www.israelskeleton.com
AJ Edelman
,
Humans
,
Israel
,
Jewish
,
Judaism
,
Olympics
,
People