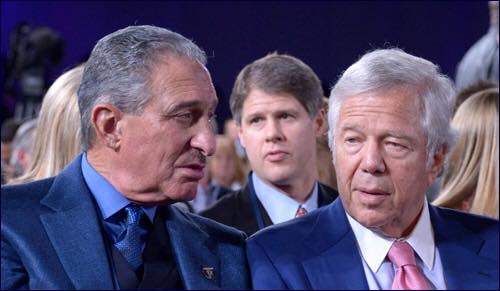 This year's Super Bowl features two Jewish owners, 
Robert Kraft
 of the 
New England Patriots
 and 
Arthur Blank
 of the 
Atlanta Falcons
. Owning football teams isn't the only thing these two have in common, they both have close connections with Israel.
Robert Kraft, CEO of The Kraft Group, has generously donated to Jewish and Israeli causes for years, giving away more than $100 million to health care, education and local needs. Kraft grew up in Brookline, Massachusetts where his father, Harry Kraft, was a dress manufacturer and Jewish lay leader at Congregation Kehillath Israel in Brookline. The Krafts were an observant, Jewish family, and Harry wanted his son to become a Rabbi. Robert graduated from Brookline High School in 1959. He was senior class president but he didn't join any of his high school sports teams because he attended after-school Hebrew school and refused to play on Shabbos. But Kraft did go on to play on the football team at Columbia University and became class president there as well. He married Myra Hiatt in June 1963 and they had four sons together.
Arthur Blank, co-founder of Home Depot, has donated millions of dollars to various Jewish organizations within the U.S. and Israel. Blank grew up in New York, the son of Max and Molly Blank, and attended Stuyvesant High School in New York City. Blank has six children and three stepchildren. He is a signatory of The Giving Pledge, committing himself to give away at least 50% of his wealth to charity.
But more impressive than the NFL teams that Kraft and Blank own is both of their generosity and commitment to Israel and the Jewish people. They may be in the Super Bowl spotlight for their talented football teams, but above and beyond their victories and defeats is their knowledge of the importance of being a mensch on and off the field, and of using their wealth and influence to help others.
Source: aish.com
Football
,
Robert Kraft
,
Super Bowl