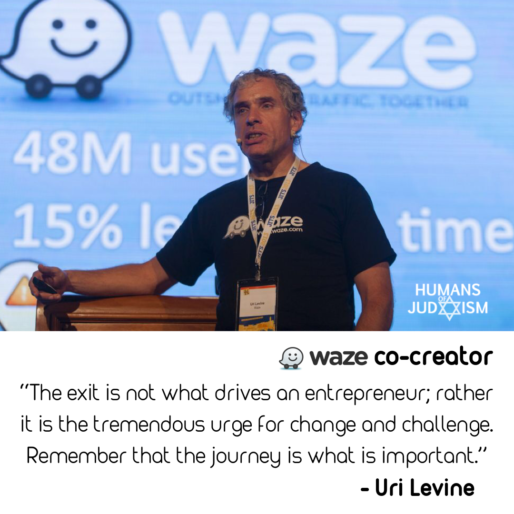 What do Ehud Shabtai, Uri Levine, and Amir Shinar all have in common? They are the co-creators of an app that makes our lives easier. This app is… Waze! If you aren't on the Waze train yet, go check it out. Waze is a community-driven GPS navigation software that provides turn-by-turn information while continuously downloading location-dependent information to give the user the fastest route to their destination. If that doesn't sound good enough, the app also gives a "heads-up" of accidents, roadwork, police, or any other hazards to its users. Also noteworthy to mention, Waze is an Israeli founded company!
It all started with Ehud Shabtai. Ehud Shabtai is an Israeli programmer who received his B.S in Computer Science and B.A in Philosophy both from Tel-Aviv University. Shabtai wanted to get from place to place quickly and without having to print or ask for directions. His wife bought him a GPS, but he soon found a lot of flaws with it. He knew he could create a better system with his knowledge. In 2006, Shabtai developed FreeMap Israel, which was a project to create a free digital database of the Israeli map. Two years later, with the help of Levine and Shinar, they formed the company Waze to commercialize Shabtai's vision.
In an interview with Levine by the Israeli Innovation News, he stated that the Waze was initially a blank page with a map that was created as the users drove around the area. The users were also able to add street names, gas stations, storefronts, etc to complete the map. In the early years, if any of the co-founders found a place that wasn't on the map they would drive by it multiple times, taking different turns so that the system would add it to the map. Eventually, all of Israel was uploaded on Waze. Levine states that "there are more than a billion vehicles in the world. We have 150,000 new members every day. We have a lot more space to develop."
From the beginning the app has not stopped growing. Today, Waze has sold their services to Google. Levine mentioned "a Google user travels an hour and ten minutes from [the] Los Angeles airport into the city. With the new Google, the drive will be 23 minutes."
Who knew that this incredible technology started right in our Motherland? If you haven't used this time-saving GPS app yet, go see why we all love being a part of the Waze community.
Click here to download Waze from their website.
Contributor: Lauren Shain
App
,
Humans
,
Israel
,
Jewish
,
Judaism
,
People
,
Tech
,
Tel Aviv
,
Waze