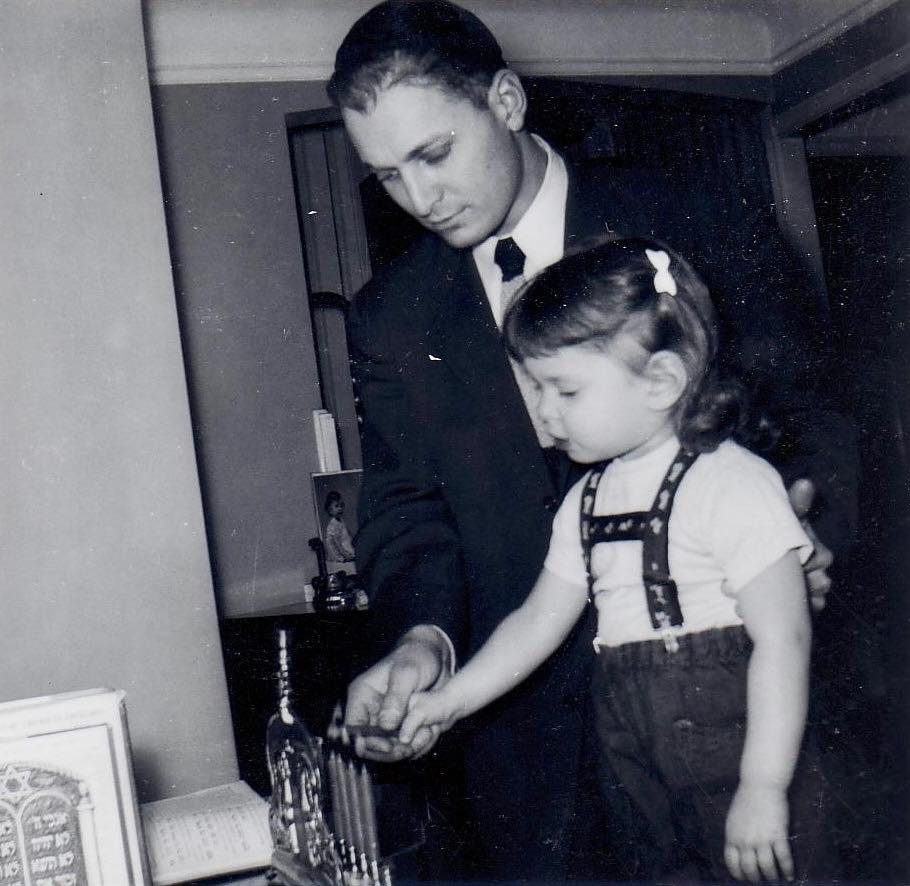 Pictured is myself with my Dad, Meyer Haas, of blessed memory. It was Chanukah 1952 and my 2nd birthday must've been happening right around then, as I was born on the first night of Chanukah, two years prior on the Hebrew calendar. This picture was taken in Cleveland Heights, Ohio.

During World War II, Dad was a brave Lieutenant, in Patton's army. He didn't speak much about it until much later in life when he talked about the Battle of the Bulge, and how painfully cold it was, and how many thousands of casualties there were. He rescued holocaust survivors in Buchenwald. He was the youngest of eight children; two brothers had died prior to his birth during World War I. He was the first of his family to be born in the United States in 1924.

I am the oldest of five children, four girls & one boy. My brother, Daniel Haas, of blessed memory, made Aliyah and was killed in the Peace for Galilee war in July 1982. Two sisters live in Israel with their large families. My husband and I live in Florida where we raised our three sons. Two of them made Aliyah and we have 15 grandchildren, 12 who live in Israel.

I am grateful to have this treasured picture with my Dad, who passed in November 2016.
May his memory be for a blessing.
Source: Sharon Haas Rothberg