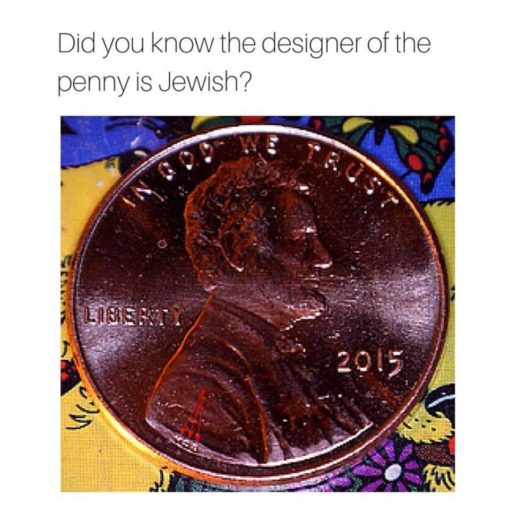 It's True! Check out his initials on the bottom of the Penny, VDB.
Victor David Brenner (born Avigdor David Brenner; June 12, 1871 – April 5, 1924) was a Litvak-American sculptor, engraver, and medalist known primarily as the designer of the United States Lincoln Cent.
Brenner was born to Jewish parents in Šiauliai, Lithuania. His name at birth was Avigdor David Brenner ("Avigdor ben Gershon," in Hebrew, as his gravestone attests), but he changed the name to Victor David Brenner. He emigrated to the United States in 1890, living mostly in the New York City area. When Brenner arrived in America, he had little more to fall back upon except the trade taught him by his father — gem and seal engraving. This technical preparation included the tools of the sculptor's craft. He took night classes at Cooper Union. Brenner soon mastered English as he had mastered French.
Eight years later Brenner was in Paris, studying with the great French medalist, Oscar Roty at the Académie Julian. There he exhibited his work and obtained awards at the Paris Exposition of 1900. He returned to the United States, and from that time on his career prospered. He appeared to be on his way to the fulfillment of the splendid predictions made for his future by Rodin.
Brenner died in 1924 and is buried at Mount Judah Cemetery, Ridgewood, Queens County, New York.
Source: wikipedia
America
,
Humans
,
Jewish
,
Judaism
,
Penny
,
People