November 2018 marked 5 years since my father passed away. Humans of Judaism was created in his memory, in an effort to share the good within the community. My dad is buried in Israel and this trip was planned to honor his memory. Below are some snapshots and moments from a trip that I will never forget.
Thursday November 22, 2018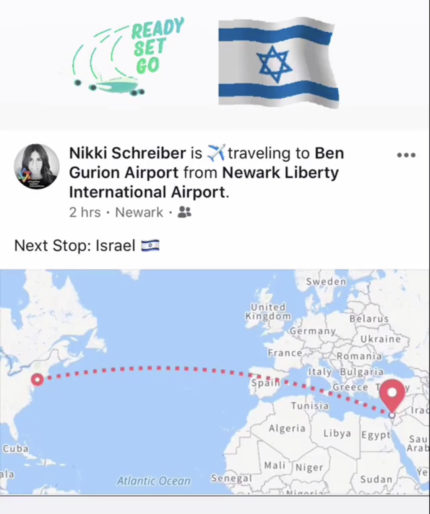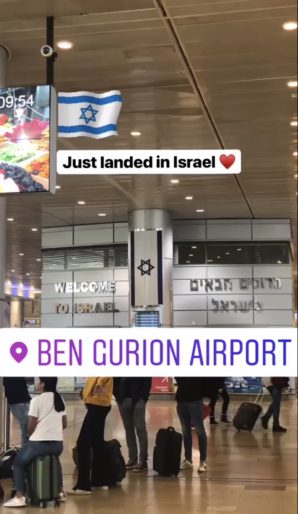 I arrived in the morning and headed straight to the hotel to drop off my things. It was clear to me that Yad Vashem had to be the first stop on this meaningful trip. In the interest of sharing this experience, I invited along my good friend Jamie Geller and her mother. We arrived to a warm greeting and immediately were taken by the energy and history this memorial exudes. We were given a private tour and learned so much on a topic we all thought we knew completely. There are no words to describe Yad Vashem, it's more than history, it teaches us fundamental tools to build a stronger future.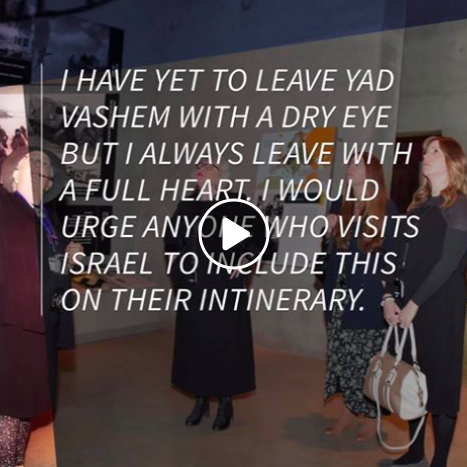 Visit to Yad Vashem: November 22, 2018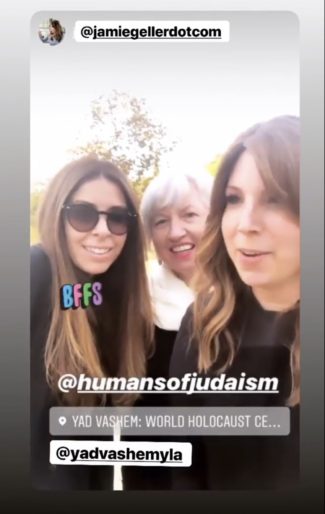 After Yad Vashem, I grabbed a bite to eat and started to settle in to the hotel… on Thanksgiving.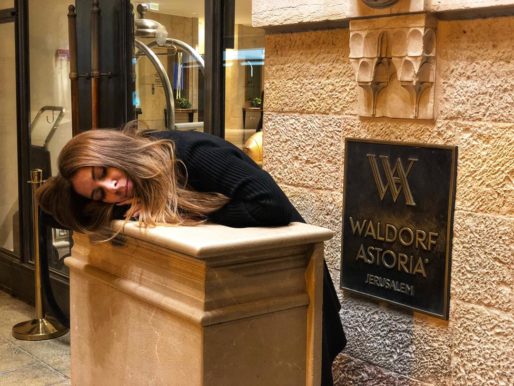 Today is Thanksgiving back home and I can't help but to feel thankful for being here in Israel. Humans of Judaism was started in my father's memory with the intent to share the good in the Jewish community, provide comfort and strength. This trip to Israel is for my father's 5th yartzeit (memorial); 5 years ago today I was sitting shiva and not feeling so thankful, today I am sitting in Israel feeling very thankful that this little passion project I started at one of my darkest times has become what it has. Could not have done it without you. Thank you all for being a part of this journey.
Goodnight Jerusalem. Thank you Waldorf Astoria Jerusalem for the hospitality. — at Waldorf Astoria Jerusalem.
---
Friday November 23, 2018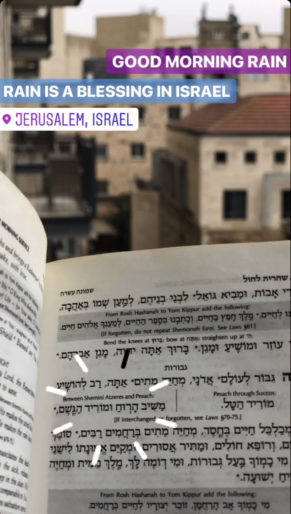 Friday morning I headed into the Shuk, market at Mahane Yehuda to meet up with some IDF Lone Soldiers. One in particular was very unique.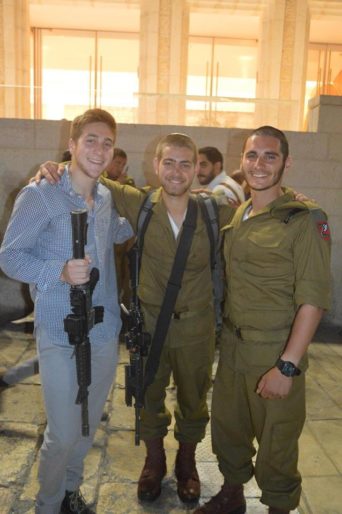 It's Friday of Thanksgiving weekend and I'm in Israel, but not alone. I met up with the Nefesh B'Nefesh-FIDF Lone Soldiers, who also are not alone. There was one soldier in particular that I was fortunate to meet.
Meir and Sarah Riebenfeld narrowly escaped Nazi Germany in 1936 to build a Jewish Homeland – fast forward to 2018 where 4 of their great grandsons are all serving simultaneously as IDF Paratroopers.
I met with one of the great grandsons, Yair Slasky, a Nefesh B'Nefesh lone soldier who hails from New Rochelle, NY and son of a former lone soldier. Yair and his cousin Yair Freedman, were both named for their grandfather who also felt a calling to be part of building a Jewish State.
The name Yair means 'to illuminate' and they certainly are illuminating Jewish history through their service.
All 4 great-grandchildren chose to go through the rigorous acceptance program of the Paratrooper Corps so that they could give the IDF their all and in doing so, become the best versions of themselves.
This is an Israeli Thanksgiving story and while we give thanks for the opportunity to stand and protect our Jewish homeland, we also pray that they and all of our soldiers stay safe.
Photographed here: Yair Slasky, Matan Slasky, Yair Freedman, (Segev Taubman missing).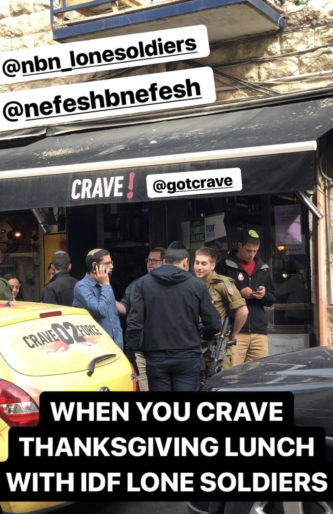 If you are ever in Jerusalem, check out Crave for some really good food! Not being paid to say this, it's really just good!!
---
Saturday Night November 24, 2018
I spent Shabbat by family in Chashmonaim. It was so special and a true high point to this trip. We headed back to the hotel after dark and I spent Saturday night walking around Jerusalem, my happy place.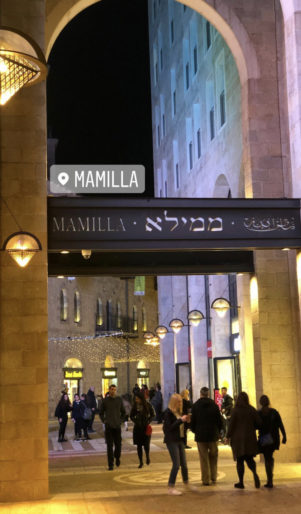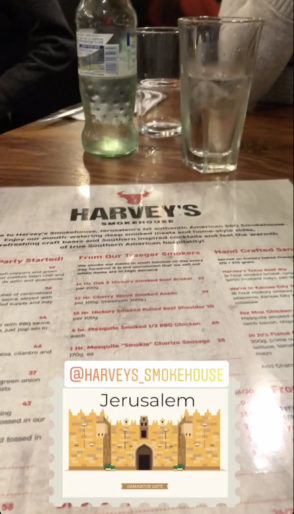 Another great place to check out, Harvey's Smokehouse.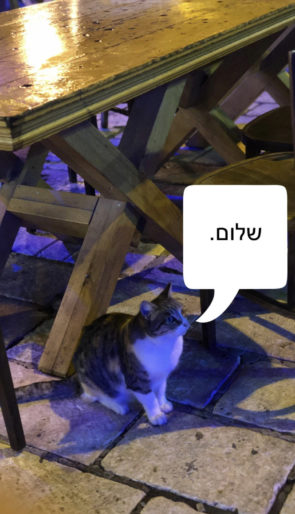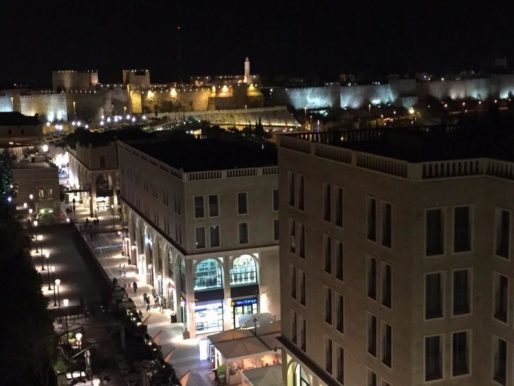 Good night Jerusalem.
---
Sunday November 25, 2018
I asked on Instagram what people loved most about Israeli breakfasts, here are the most popular responses, with some pictures I took at the Jerusalem Waldorf Astoria breakfast,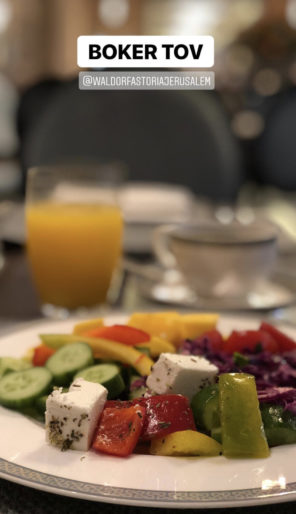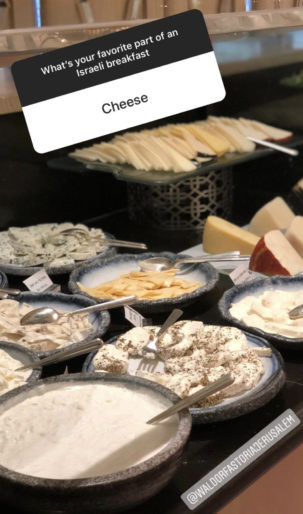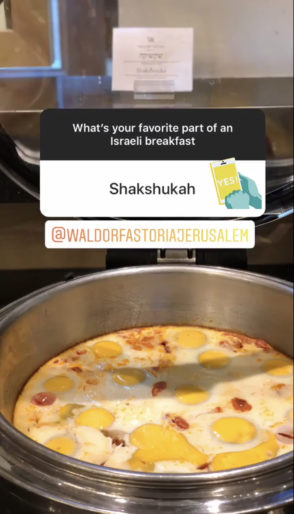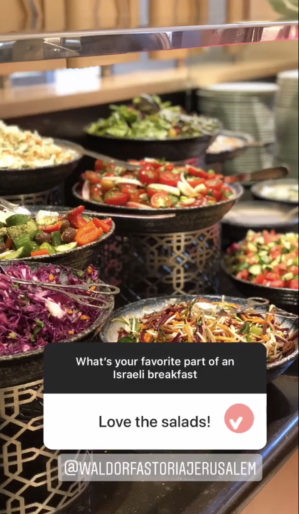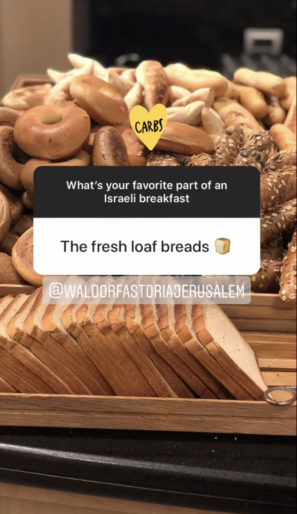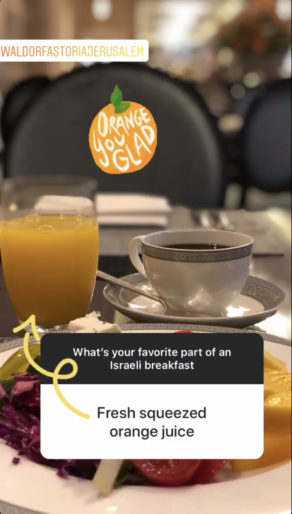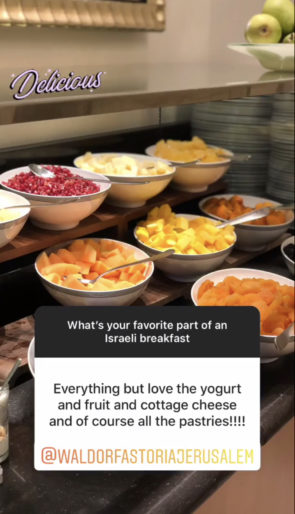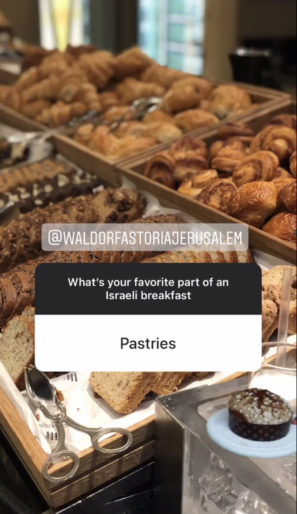 Then I headed off to the Western Wall. Weeks leading up to this trip, I had posted on Facebook and Instagram that I would be headed to the wall and would print out any prayers that were sent to me.
Posted on the Wall.
As promised, I printed out all of your prayers, from comments here and on Facebook, private messages, emails and special requests. Each note was carefully folded and placed in the cracks firmly! Thank you for trusting me as your messenger, may everyone's prayers be answered.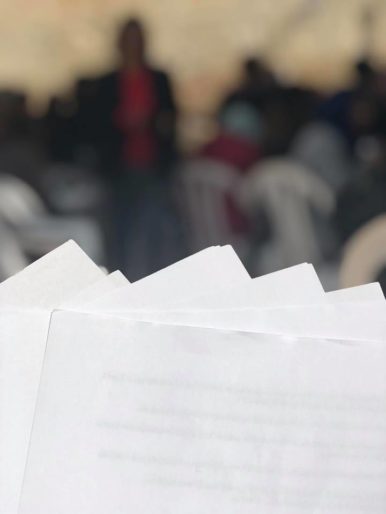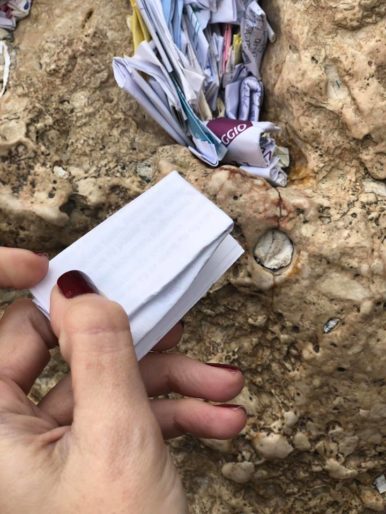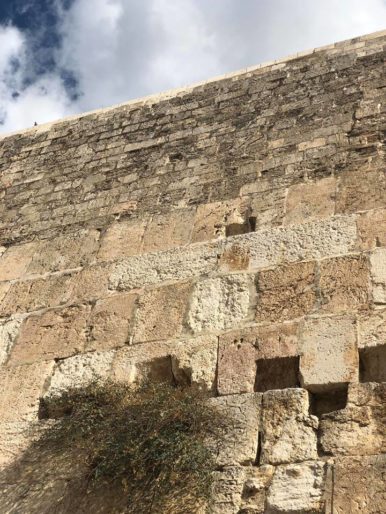 Later that day, I headed to Zedekiah's Cave. The Government Press Office (GPO) organized a Jewish New Media Summit in Jerusalem for Jewish influencers from around the world. It was an exciting night and a great opportunity to meet so many interesting new people.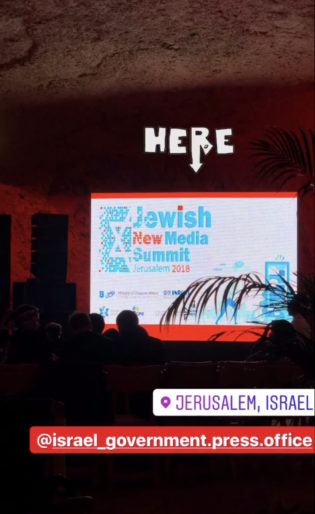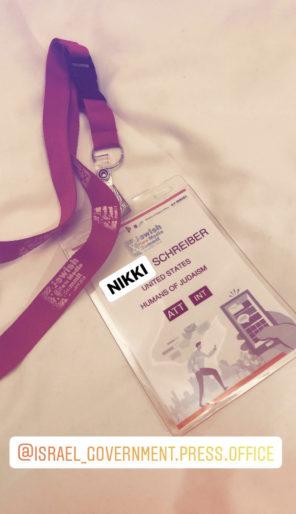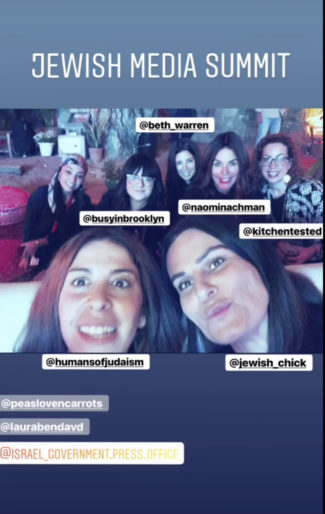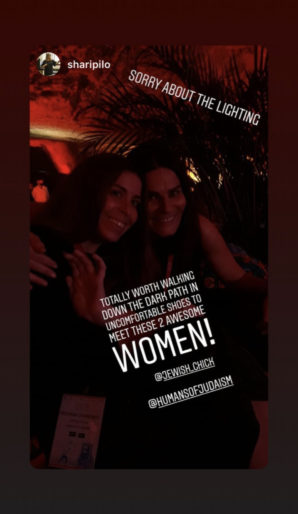 ---
Monday November 27, 2018
Today was the day my brother was arriving to Israel. Our first stop was for some falafel. Yum!!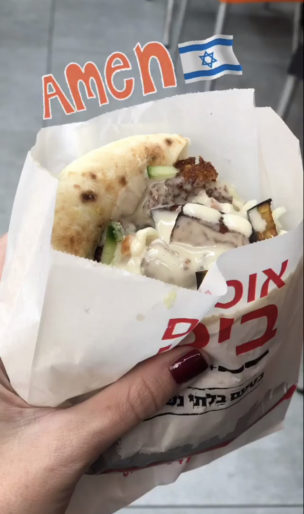 We met up with one of my favorite photographers that is often featured on Humans of Judaism. Meet Sharon Gabay, his photos share the beautiful truth about Israel and he also happens to just be a great guy. Check out more of his work in this one of a kind book of Jerusalem photos, it's really something special. Click here to buy his book.
Later that afternoon, as the sun began to set, so began the 5th year since my fathers passing.
#yartzeit 5 years.
Tonight and tomorrow mark the Hebrew date (19 Kislev) of my fathers passing. It is customary to light a memorial candle for our loved ones each year on the anniversary. The candle burns for 24 hours so it is lit for the entire day. As many of you know, Humans of Judaism was started during the year of mourning for my father in an effort to do something meaningful in his memory. Losing a parent is one of lifes hardest experiences. This page is truly my heart and soul and has picked me up when I was down. I always say that I am a follower before I am an editor. The comfort and strength that I work so hard to provide for all of you has at times been my way of helping myself to see the better things. My father only saw the good in me, as parents often do with their children. Humand of Judiasm shares that sentiment for our community, seeing the good. May we all continue to share the good things in life.
I also just want to give a special thanks to the Waldorf Astoria Jerusalem. One typically lights a yartziet candle in their home and the Waldorf has been my home for this trip. The sensitivity the hotel has showed me and the accomodation for this personal moment is something I will never forget.
That night I went to dinner with my family to honor my dad. Here is some street art I passed along the way.
After dinner, an old friend of mine was across the street attending a lecture by Rabbi Mangel. I was fortunate to speak with the Rabbi following the event and received a blessing or two. Very meaningful.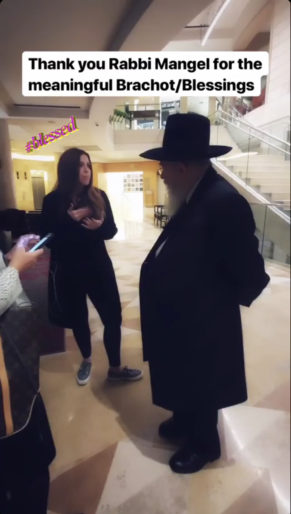 ---
Tuesday November 27, 2018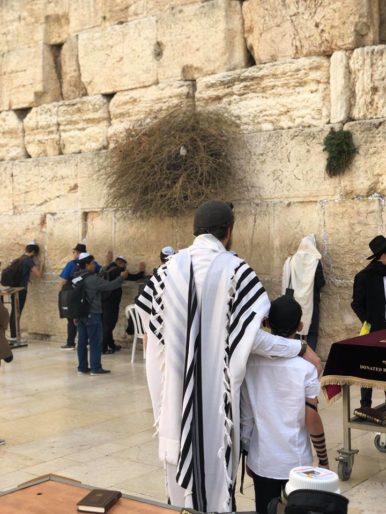 We had a long day, we deserved a break. So we headed to Roladin for some coffee and doughnuts.. sufganiyot!
Then a quick stroll through the old city of Jerusalem.
---
Boker tov, good morning.
Here are some other bloggers who were there:
Oops, someone caught me videoing the President.
Headed back to the Jerusalem Waldorf Astoria to meet up with the pastry chef and make some sufganiyot!
Well that was delicious!
Just as I was leaving, I looked at my phone only to notice that the President had shared Humans of Judaism's post on his Facebook page! Well that's certainly a first!
As Jerusalem began planning for the upcoming holiday of Chanukah, I had to say my goodbyes until next time.
Next stop: Tel Aviv
Wrapped up the day walking around Tel Aviv.
Humans
,
Israel
,
Jerusalem
,
Jewish
,
Judaism
,
People
,
Tel Aviv