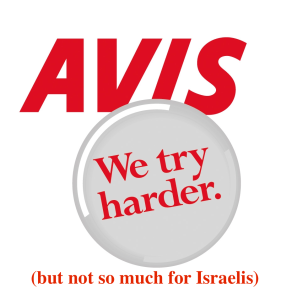 On Saturday evening, Dov Bergwerk arrived at the Avis branch on West 76thStreet and Broadway. Accompanied by his wife Ruth, the Bergwerks were planning to join friends for dinner in Westchester. Mr. Bergwerk, a senior vice president and general corporate counsel at the Israeli pharmaceutical giant Teva, got out his driver's license, reservation number and "Wizard" loyalty card – he's rented from Avis dozens of times before – and anticipated the usual smooth transition into a nondescript mid-sized sedan.
That's when the trouble started.
A reservation agent named Angelline declined to honor Mr. Bergwerk's reservation, saying that it was company policy not to recognize Israeli documents. Stunned, Mr. Bergwerk explained that he had rented from Avis many times, including a car from that very same office on Thursday, November 19 – only two days earlier.
Mr. Bergwerk asked Angelline to access the profile attached to his Wizard card, which shows that he is an executive at a giant multinational company who has no regulatory issues and has rented from Avis, including at that very branch, many times without incident. She refused. They argued.
Eventually, a manager was called. Shamoura took the side of her reservation agent, also refusing to honor Mr. Bergwerk's reservation or recognize his documents. Stunned and stranded on a Saturday night in New York, Mr. Bergwerk called the Avis main number and got through to customer service. The representative confirmed to him that the Israeli license was an acceptable form of ID and also mentioned that he could show his passport to ameliorate any ID concerns the on-site employees had. Mr. Bergwerk put the customer service representative on the phone with Shamoura, the branch manager, and at this point the story evolved. She now claimed that she was declining to rent the Bergwerks a car not because of the insufficient documents but because Mr. Bergwerk had "argued about the way I was being treated in front of other customers," according to Mr. Bergwerk.
Continue Reading here.
Source: observer.com