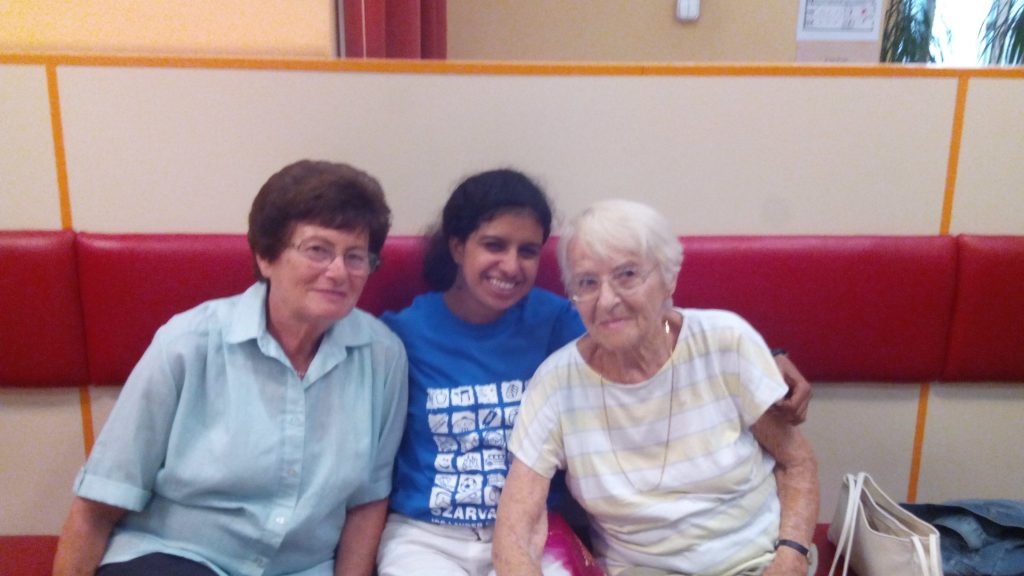 Living in India, I hardly stood a chance to meet any Holocaust survivor.  As I was in Hungary for the Szarvas Camp, I thought I could meet one. Thanks to Zsuzsanna Fritz, (Director of Balint Haz – Jewish Community Centre in Budapest and Educational Director of Camp Szarvas) for arranging my first ever encounter with Holocaust survivors.
We were supposed to meet on 10th July, 2015 at 3:00 pm. Although that was our last day at Szarvas, and my heart was overwhelmed to leave the place and people that were my home and family for three weeks, the thought of meeting Holocaust Survivors and hearing their stories excited me, as I knew this might be my only opportunity. After two hours on the bus we reached Budapest, only to find that our room is not booked, my suitcase is broken and we are stranded in a strange city. By the time we could find a new place to stay, it had already struck 

3:00

! There was no time for lunch, and I left the group for them to rest. Running around with a map in my hand, asking people for directions as well as taking the wrong lanes few times, I finally reached my destination at 

3:20 pm

. I walked into the Balint Haz, panting, out of breath, but took a huge sigh of relief. Despite my hectic morning, I finally made it to the goal. Actually, the adventure had just begun! 
Inside, I saw four ladies sitting together, two of whom were quite elderly. I explained that I
'
d been sent by Zsuzsanna to meet the survivors.  The younger woman, named Katalin, introduced me to her mother Eva Gabor and her friend Lancz Zsuzsi, both who were survivors of the Holocaust. The other lady was Zsuzsi
'
s dearest friend who accompanied her to Balint Haz. Zsuzsi, upon seeing my state, asked why I was I fatigued and where the group was. I happened to mention that they were 
"
tired
"
 – big mistake! Before I could explain anymore, Zsuzsi scolded us, asking how we youngsters can get 
"
tired
"
 so quickly? She went on and I chose to not interrupt her. 
At that point, I realized her expectations from us as a younger generation of Jews. Being a Holocaust survivor and having lived through all those difficulties, she wants the next generation to be stronger and not get tired or give up because of small mishaps. She wants the Jewish people to live on, for which we need enduring will-power. The atmosphere cooled down after some time. Both 
É
va and Zsuzsi inquired whether I was a reporter, writer, or history student. As much as I was interested in learning about their journey, they too were intrigued about the purpose of my visit. I introduced myself as an Indian Jew, and, at first, they were very surprised to know that there are Jews in India.
Zsuzsi is 89 years old and began narrating her story. She knew very little English, so, Eva, who is much younger than Zsuzsi and an English translator by profession (having translated books by Kiran Desai, Jhumpa Lahiri, Katherine Boo & Morris Gleitzman into Hungarian), translated all that Zsuzsi told me. Zsuzsi was born in Sz
é
kesfeh
é
rv
á
r, Hungary, in the year 1926. When she was around 18 years old, the German soldiers invaded the city and forced all Jewish people to live in ghettos.  At that time, Zsuzsi
'
s mother was very ill. They had to sleep in barracks, which were so small that if one person had to move or go to the toilet, everybody had to move too.  Zsuzsi and her family were then crammed into train compartments to the Aushwitz concentration camp. By the end of the journey, her mother couldn
'
t make it and the Nazis left her to die.  It was difficult for Zsuzsi to see her friends with their mothers after her mother died and she was standing alone. Later, Zsuzsi and her younger sister were transported to Birkenau camp. It was horrifying for her to see the new arrivals, innocent children who played around and laughed, and couldn't understand what was going on; youngsters, women and families, some of which were known faces, would have to march naked to their death in the gas chambers. Mengele, the Nazi officer who selected people to either work at this camp or die in the gas chambers, on seeing that Zsuzsi was strong enough, was selected to work at a bomb factory in Lipstadt.  At this point her sister fought with Mengele to be with Zsuzsi and fortunately they were put to work together. At Lipstadt, they would hardly get anything to eat – some carrots and a piece of stale bread which would hardly be edible. Nonetheless, Zsuzsi and her sister survived it.
On 1st April, 1945, American soldiers liberated the Lipstadt camp. At first, they gave all survivors cigarettes. The survivors didn
'
t accept those. They were hungry and they wanted food. After being liberated, Zsuzsi and her sister came back to Hungary. Her neighbours had taken over their property and scowled upon their return. Yet, Zsuzsi did not give up on living in the town she calls her birthplace and home 
–
 where she was educated, where she has memories, and where she belongs. Zsuzsi
'
s sister, post liberation migrated to America after three months, as she did not want to live in a place where her identity was hated for no reason. She wanted to travel the world, explore new things and also find her soul mate. It was amazing to learn about the two different views these sisters had. Zsuzsi
'
s sister now lives in America with her family.
Eva told me that she was three years old when she survived the Holocaust. All the stories she knows today were narrated to her by her parents. She spoke about one incident very vividly wherein all the members of a Jewish family living in the neighbourhood were shot down by the Nazi soldiers in an attempt to escape. Another instance was of her cousin brother who came out of hiding to check the chaos happening on the streets and was shot by the soldiers.
All this while, Zsuzsi was amazed to share her story with me and said this was the second time she narrated her story.  Though it is always very hard for them to speak about the terrible events of their past, they were moved to see my interest at the same time. Our meeting lasted for an hour and a half, but we could have talked for hours more. 
É
va stated that personally they haven
'
t felt any mark of anti-Semitism in Hungary, but they know that it exists. She too mentioned that they can express themselves freely as Jews in Hungary. 
Zsuzsi thinks that the education of young people is very important all over the world, so that they get acquainted with the tragic events of the past. That
'
s why our meeting was so important. I was very privileged to have met such influential people and learn from them about the Holocaust. I share these stories here in hopes of spreading awareness and encouraging readers to take steps in order to learn more about what happened to our people in the World War II, as history repeats itself if forgotten. And this, we shall Never Forget. Never Again!
Holocaust
,
Hungary
,
India