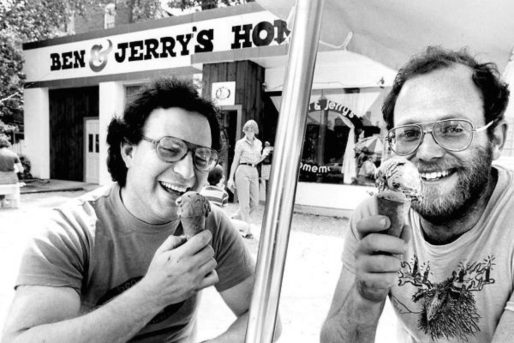 Ben Cohen and Jerry Greenfield, also known as Ben and Jerry's, are both Jewish businessmen and philanthropists. They've created one of the most popular and delicious ice cream brands out there. Not only do they have kosher dairy ice cream, but they also recently created a non-dairy line (so you can still satisfy your sweet tooth after a nice meaty dinner). In addition to their regular kosher ice cream, Ben and Jerry's created 8 special kosher for Passover ice creams which include flavors such as Dulce de Leche, Charoset, Classic Vanilla, Classic Chocolate, and Coffee.
Greenfield was born in Brooklyn, New York on March 14, 1951 four days before Cohen, who was born in the same hospital. Not only was their birth a commonality between them, but both of their families moved to Merrick, Long Island where Greenfield and Cohen met in junior high school. There friendship quickly grew when they discovered they each disliked running in gym class. Also, they both attended the same Hebrew school and had their bar mitzvah at Congregation of Merrick.
After realizing they didn't know what to do after college, Cohen and Greenfield decided they wanted to open an ice cream business since they both enjoyed eating ice cream. They soon split a $5 ice cream making course at Penn State and from there began their business. With their savings and a few loans, they opened their first storefront in Burlington, Vermont on May 5, 1978. Since Cohen had anosmia (lack of smell or taste) he felt the need to add texture into his ice cream since he enjoys a variety of texture in his personal diet. This led to a trademark on ice cream with chunks (aka the ice cream we love today). The rest is history.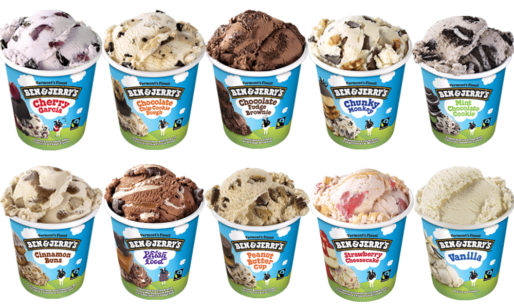 Cohen and Greenfield are proud philanthropists. They created the Ben & Jerry's Foundation, which funds community oriented projects, and the Business Leaders for Sensible Priorities, which is a non-profit organization that helps business leaders fund more social programs like education, healthcare, and green technologies. They even go around the country to give speeches about their experiences. The Chabad Chayil-Highland Lakes Jewish Center in North Miami Beach had Cohen speak to their community and Greenfield spoke at a networking event for the Jewish Federation of Greater Washington. At this event, Greenfield described himself as being culturally Jewish but also stated that his religious background helped sensitize himself to discrimination, marginalization, and the need to help other people.
Not only have they provided us delicious ice cream but they are also doing their part in helping the word. Let's give it up for Ben and Jerry!
Contributor: Lauren Shain
Ben & Jerry's
,
Humans
,
Ice Cream
,
Jewish
,
Judaism
,
Kosher
,
People