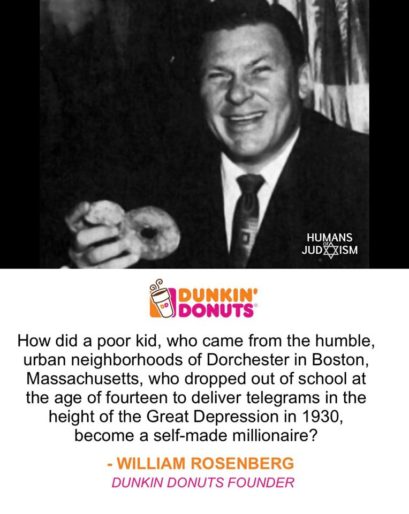 William Rosenberg, born 103 years ago today on June 10, 1916 in Boston, Massachusetts, was an American Jewish entrepreneur who we thank for the yummy donuts and coffee we can buy at almost every corner. Yes, William is the founder of the
Dunkin'
Donuts franchise. William, who went by Bill, was one of the four children of Nathan Rosenberg and Phoebe Swart, who were both Eastern Europe Jewish imm
igrants.

Bill found himself quitting the 8th grade to work to help support his family since his family suffered during the Great Depression. He worked as a delivery boy for an ice cream distribution company, Simco, and with hard work he became the national sales manager. After many years at Simco, Rosenberg started working at the Bethlehem Steel Company during WWII. Later, he also became the first Jewish Trade union delegate.

Once the war ceased he used his food, sales, and distribution knowledge to open up a food truck that delivered coffee and snacks to factory workers on their breaks. He called this the Industrial Luncheon Services. He realized that coffee and doughnuts were the high sellers of the food trucks and opened a storefront that specialized in these products. He called his first coffee and doughnut shop the Open Kettle. Could you imagine if all of the DD's out there were called Open Kettle? Bill later changed his store's name from Open Kettle to Dunkin' Donuts.

Within 7 years of opening his first Dunkin' Donuts, he had 5 other stores and decided to franchise his business to grow throughout the country. At this time, franchising wasn't a concept but Bill proposed his idea at a trade show. This led to him creating the International Franchise Association.

Today, Dunkin' has more than 12,000 storefronts in 36 countries. Next time we go to one of these 12,000 stores let's take a moment and remember Bill for his delicious creation.

Source: Lauren Shain
Doughnuts
,
Dunkin
,
Humans
,
Jewish
,
Judaism
,
People
,
William Rosenberg