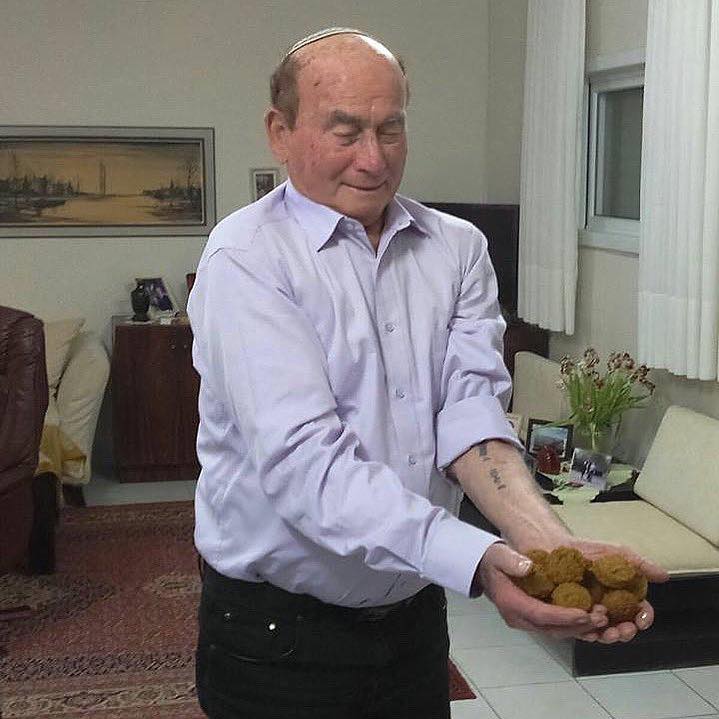 Every year on January 18th, Holocaust survivor David "Dugo" Leitner invites everyone to eat falafel with him and hold up a sign that says "Am Yisrael Chai." Why does he do this? It's his private revenge.
Born in Nyíregyháza, Hungary in 1930, Dugo was just 14 when the Nazis invaded his hometown. He and his family were sent to Auschwitz-Birkenau where Dugo was tattooed with two numbers, B12042 and B14671. The first was "erased," but never went away. Dugo was assigned sewage duty and narrowly escaped the gas chamber numerous times.
On January 18, 1945, Dugo, along with 60,000 other Auschwitz prisoners, was forced on a Death March to Mauthausen. Exhausted, freezing, and starving, Dugo dreamt of "bilkelach," or mini challah rolls. His mother always told him that they would go live in Israel where "bilkelach" grew on trees.
Miraculously, Dugo survived the war and immigrated to Israel in 1949. On his first visit to the Machane Yehuda market in Jerusalem, he encountered a local delicacy that reminded him of the "bilkelach" – falafel balls.
Since then, Dugo has been eating falafel every year on January 18th, the anniversary of the Death March, to celebrate life and the miracle of his survival.
Contributor: Jill Goltzer
Photo: ארכיון בית העדות