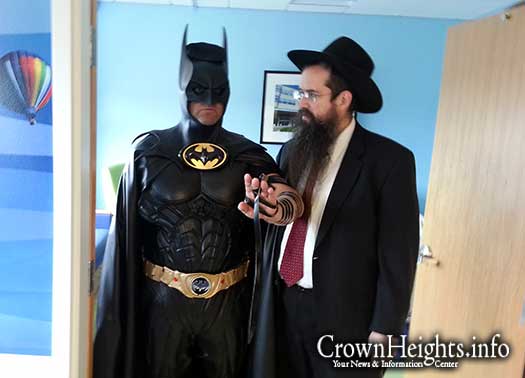 Known around the world as costumed superhero Batman and dedicated his life to bringing joy to ill children, Leonard Robinson was tragically killed in a crash on a Maryland highway on August 16th.
Robinson made an appearance on CrownHeights.info when he put on Tefillin for the very first time with Florida Shliach Rabbi Avraham Friedman. 'Batman' was visiting a South Florida hospital and encountered the Shliach, who was visiting a young member of his community, when he suddenly walked in.
Sitting together in the patient's room he surprised everyone by saying "Yes! I am a member of the tribe too!" and much to everyone's delight agreed to put on Tefillin. After reciting Shema and Tehillim together, 'batman' informed the rabbi that although he knew of Tefillin he had never put them on until then.
He is survived by his three children: Justin, Brandon and Jake Robinson; his parents: Larry D. and Ilona M. Robinson; and siblings: Scott (Jodi) Robinson and Michelle Robinson.
Source: CrownHeights.info
Batman
,
Chabad