FUNAFUTI CAKE POPTASHEN by Mandylicious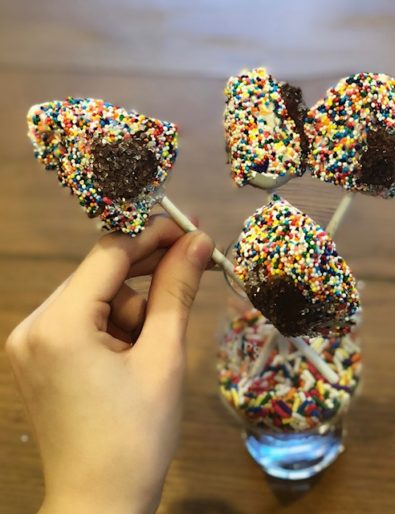 HERE'S WHAT YOU NEED
1 box of yellow or funfetti cake mix
1 16 oz container of vanilla frosting
24 oz white candy coating
Nutella or chocolate spread
Rainbow sprinkles
Crystal sprinkles (optional)
40 lollipop sticks
DIRECTIONS
Bake cake mix according to directions. Let cool completely.
Once cooled, crumble cake into a large bowl.
Add around 3/4 of the frosting to the crumbled cake. Mix with your hands or a large spoon until thoroughly combined. The combination should be moist enough to roll into balls.
Refrigerate cake mixture for approximately 1 hour.
Line two cookie sheets with parchment paper.
Roll a generous tablespoon of the mixture into a ball shape and place on the prepared cookie sheet. Repeat with the remaining mixture. Once all the mixture has been turned into balls, freeze for 30 minutes.
Remove from freezer, and gently flatten the balls and press the sides of the ball up to form a triangle shape.
Freeze for an additional 30 minutes.
Melt candy melts according to directions in one bowl, and place rainbow sprinkles in a separate bowl.
Remove from freezer and gently insert one lollipop stick into the flattened end of the triangle.
Holding the stick with the cake pop attached, dip the entire thing into the melted candy coating and then immediately place in the bowl of sprinkles. Flip to coat each side. Place back on cookie sheets.
Freeze for an additional 30 minutes.
Remove from freezer and spread around 1 teaspoon of Nutella or chocolate spread into the center of the cake poptashen. Optional: Cover the spread with additional crystal sprinkles.
Refrigerate until serving.
Mandylicious Challah
Mandy Silverman grew up in St. Louis, went to college in Ann Arbor (Go Blue!), stuffed her first challah in Pennsylvania, and created Mandyliciousnearly 4 years ago in Sharon, MA. She is eternally grateful for the every day inspiration and support from her husband and two children. Check out what crazy challah innovations she will come up with next at www.mandyliciouschallah.com or follow her @Mandyliciouschallah on Facebookand Instagram.
Food
,
Foodie
,
Hamantaschen
,
Holiday
,
Humans
,
Jewish
,
Judaism
,
Kosher
,
Mandylicious
,
People
,
Purim