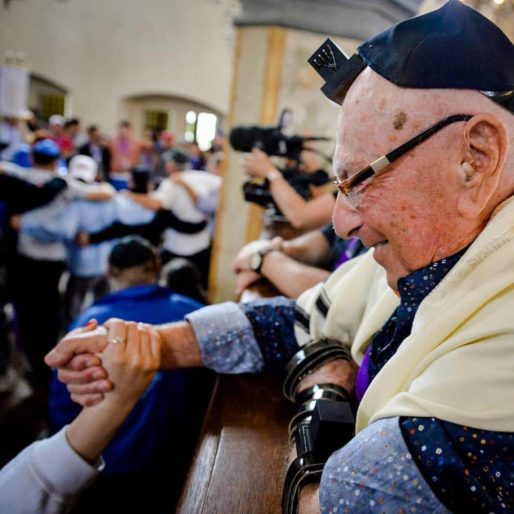 Johnny Jablon comenzó a prepararse para su bar mitzvah en Polonia en el verano de 1939. Un mes después, los alemanes invadieron. Ahora a los 92 años de edad, Jablon regresó a Polonia por primera vez desde II Guerra Mundial para celebrar su bar mitzvah.
Nacido como el segundo de tres hijos de una familia asimilada de Cracovia, Jablon pasó los primeros 11 años de su vida completamente integrado a la sociedad de Polonia. Mientras que la mayoría de los judíos tradicionales vivían en el distrito Kazimierz, los Jablon vivían en una pequeña calle suburbana al lado de Planty Park, el largo parque que rodea a la vieja ciudad de Cracovia, donde las paredes de la ciudad habían estado una vez. "Hasta el sexto grado solo hablé polaco" recuerda Jablon. "Era el único judío de mi clase. Mis compañeros lo hicieron muy claro para mí – por 6 años me llamaron solo 'judío sucio'. "
A pesar de los abusos, los Jablon se consideraban judíos polacos, con un énfasis en tener la ciudadanía completa.
En el verano de 1939, Jablon estaba aprendiendo a nadar en la nueva piscina pública de Cracovia y pasando tiempo con su tía y primos en un campamento de verano en Rytro. Sus padres contrataron a un Rabino para que lo ayudara con sus estudios de bar mitzvah. Cuando explotó la guerra en Septiembre sus estudios pararon — y el curso de la vida de Jablon fue alterado por siempre. "En un día lo perdí todo" dijo.
Se muda a Montreal, se casa, abre una tienda de electrónicos y empieza una nueva vida. No planeó regresar a Polonia. "¿Cómo podría regresar?" dice. "No me queda nadie. No quería regresar a ver los restos de mi familia" En Mayo pasado cuando su esposa Sally muere, Jablon comienza a reflexionar en su vida en Polonia antes de la guerra. A instancia de sus amigos, decide que era tiempo de regresar en un viaje de "March of the Living International" a su país natal.
Ahí es donde conoce al Rabino Pinny Gniwisch de Jabad – Lubavitch. El Director de Jabad afiliado a "Living Legacy" en Montreal, Gniwisch, ha liderado los viajes a Polonia de "March of the Living" por los últimos 13 años. Este año, él es el Rabino oficial de la delegación de Montreal.